2 min read
Wednesday, July 17, 2019
Four Tips to Pick the Right Marketing Firm for Your Business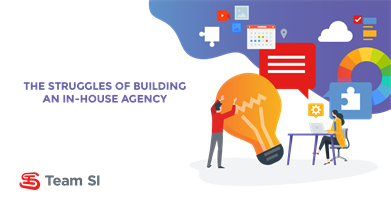 Let's be honest. You realize your marketing strategy can help bring in a lot of business, but it can also be difficult to develop a successful marketing plan on your own. It can be overwhelming to even think of all the factors that go into marketing these days — social media, content management, a mobile-friendly website, digital advertising, traditional advertising and the list goes on.
You might seek help from a marketing firm, passing off the responsibilities to give you more time to focus on the business side of things. But before you pick a marketing firm to work with, there are some elements you'll want to consider.
You'll want a firm that's able to meet all your needs, whether you are handing over all your marketing responsibilities, only some of them or if you just need experts there to consult with your in-house team. Team SI is well versed in a variety of services, from website and mobile app development, social media and search engine marketing, reputation management, design and so much more. We also operate on TraDigital by Team SI® — our term for a blend of traditional and digital marketing. Better yet, we strive to be the one company that fits all your needs and tailors our marketing plans to fit your budget. We identify which services will work best to increase your sales online and in-store and set you up as a powerhouse that triumphs over your competition.
Once you've found a firm you like, you need to make sure it understands your goals, hears your concerns and guides you through its process. The firm should develop a plan for both your short-term and long-term goals and provide proof of the successes your campaigns make along the way. At Team SI, we work to establish key performance indicators that help our clients measure the success of their campaigns in relation to their business objectives. Believing in transparency, we show clients the status of those campaigns through weekly and/or monthly reporting.
The firm should be adaptable, able to switch gears when a factor of your ad campaign isn't working or optimize it to make sure your marketing dollars are being spent efficiently. With all relationships, sometimes there's a bump in the road. However, your relationship with your marketing firm should be able to ride the rocky waters of business and stay afloat. Team SI knows your marketing dollars are precious and wants to use them in the best ways for your business. Our specialists monitor these campaigns daily to make the most effective use of our clients' advertising dollars. If a problem arises, we work with you to find the best solution for your brand and guide you through any rough times. At Team SI, we make a plan and work the plan, and if we see that plan is not meeting your goals, we will make adjustments.
You'll want a marketing firm that has experience working in your industry or with clients that are similar in size and/or need. Don't shy away from us because you think you are too small or too large for us to partner with. We already have clients in a variety of industries, including agriculture and equipment, health care, automotive, higher education, restaurants, banking and tourism, and we're constantly looking to expand that list. In health care alone, we work with smaller organizations, like physician practices, all the way to hospitals and health systems.
So, whether you turn to Team SI for all your services or just want to talk and see if we would be a good fit for you, don't hesitate to reach out.
Four Tips to Pick the Right Marketing Firm for Your Business
Tagged
Best Practices