1 min read
Friday, August 2, 2019
The Struggles of Building an In-House Agency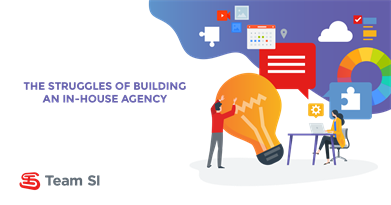 Despite the temptation to bring in your marketing efforts and manage them with an in-house team, a new study by the Association of National Advertisers, Boston Consulting Group and Reed Smith suggests certain struggles with in-house agencies that marketing firms could handle instead.
According to the report, "Managing In-House Agency Content and Legal Concerns," the top concerns in-house agencies often struggle with are attracting and retaining top-tier talent, and keeping existing talent excited about their day-to-day responsibilities.
For employees who transition in-house from bigger firms, the workload can sometimes be, well, boring. Instead of working with several clients who each bring their own challenges or needs to a project, moving to an in-house agency with a focus on one brand and a slower project pace can become redundant. This could be a reason top-tier talent at in-house agencies tend to chase opportunities at firms. At larger firms, there's often a drive the agencies have to keep pushing forward and show off the innovative ways their employees are helping their clients, which can be motivating for their top-tier talent.
The report states in-house agencies try to combat these issues by having creative talent work on projects with internal stakeholders, giving them challenging projects that could expand their skill sets and providing access to training workshops.
From a business standpoint, the amount of money that goes into building a successful in-house marketing function needs to be considered. Large firms are designed to attract talent with a variety of skill sets, keep employees on top of the latest marketing trends and give employees access to the tools they require to make their clients' campaigns succeed. While day-to-day communication could possibly be easier for in-house agencies with all stakeholders likely under one roof, bringing in the talent and resources for a rockstar in-house team can be overwhelming, costly and take a lot of time and effort. And, what happens to your marketing campaigns when a team member decides to leave? Their projects are often left on hold until someone else can pick them up.
Whether you decide your business would be better with an in-house marketing firm, you would rather work exclusively with an agency or you decide on a mixture of both, the important thing to do is evaluate your team's marketing capabilities and weigh that against the work a marketing firm could deliver. Whichever you choose, Team SI has your back, whether you need us to handle multiple marketing duties or consult with your in-house team. We're here to help and no task is too small or too large for us to handle. So, whenever you need a helping hand from a data-driven marketing firm, get in touch with Team SI.
The Struggles of Building an In-House Agency
Tagged
Articles